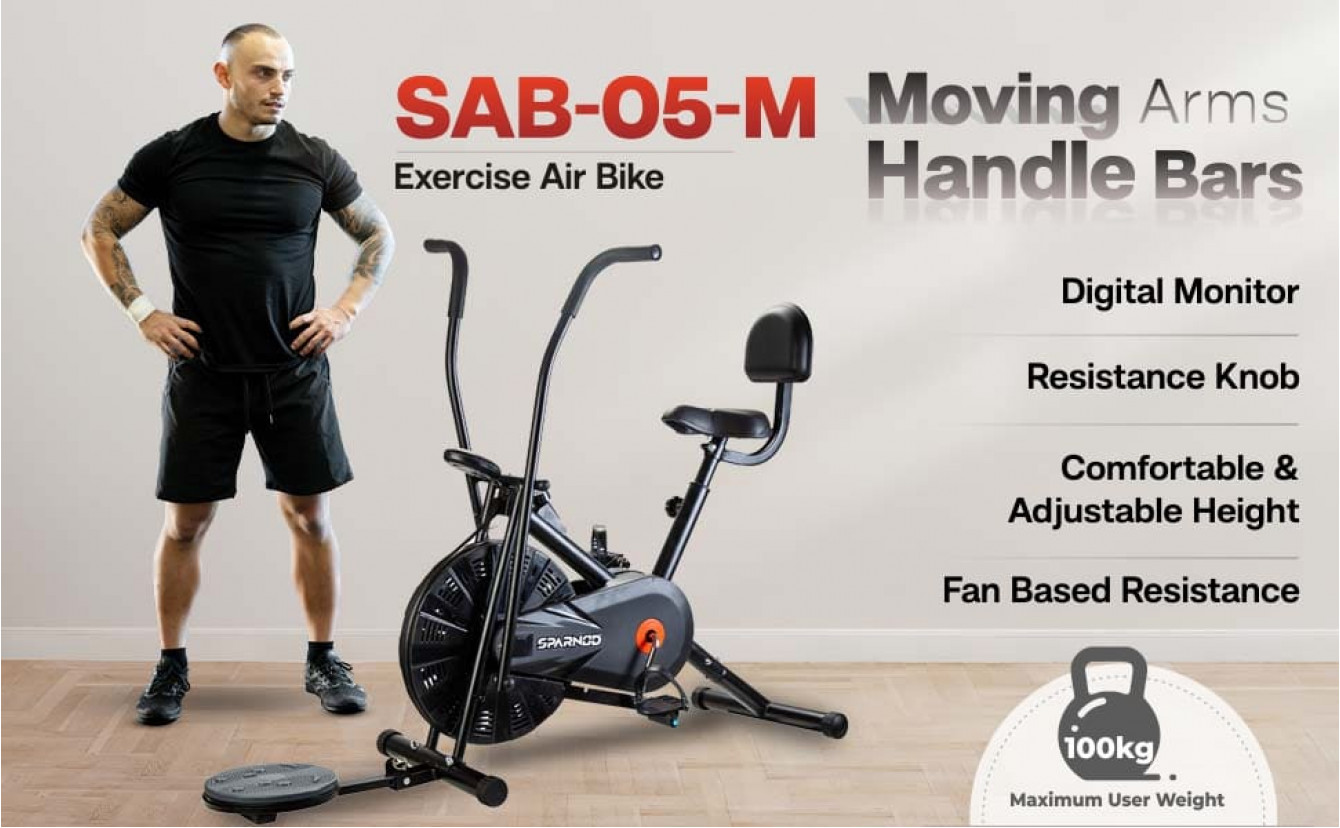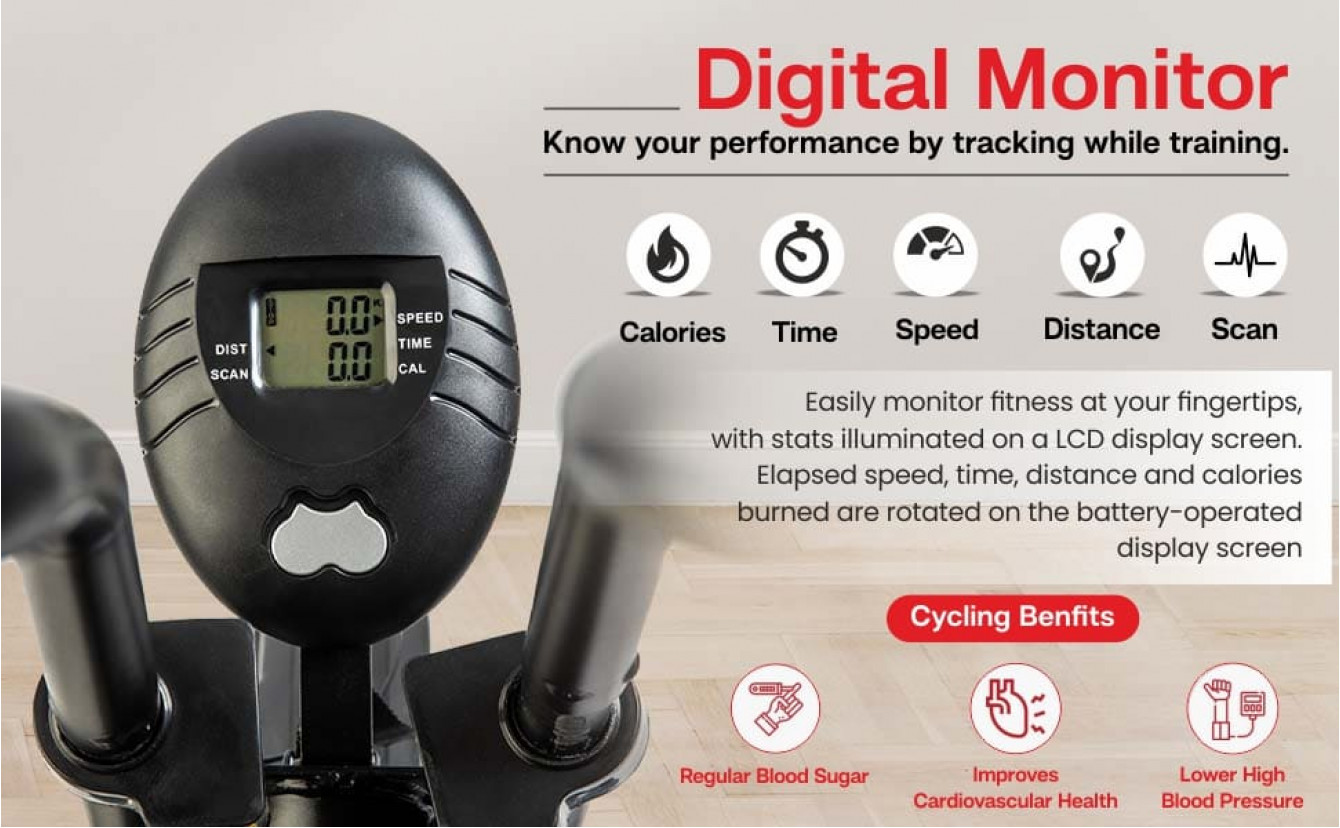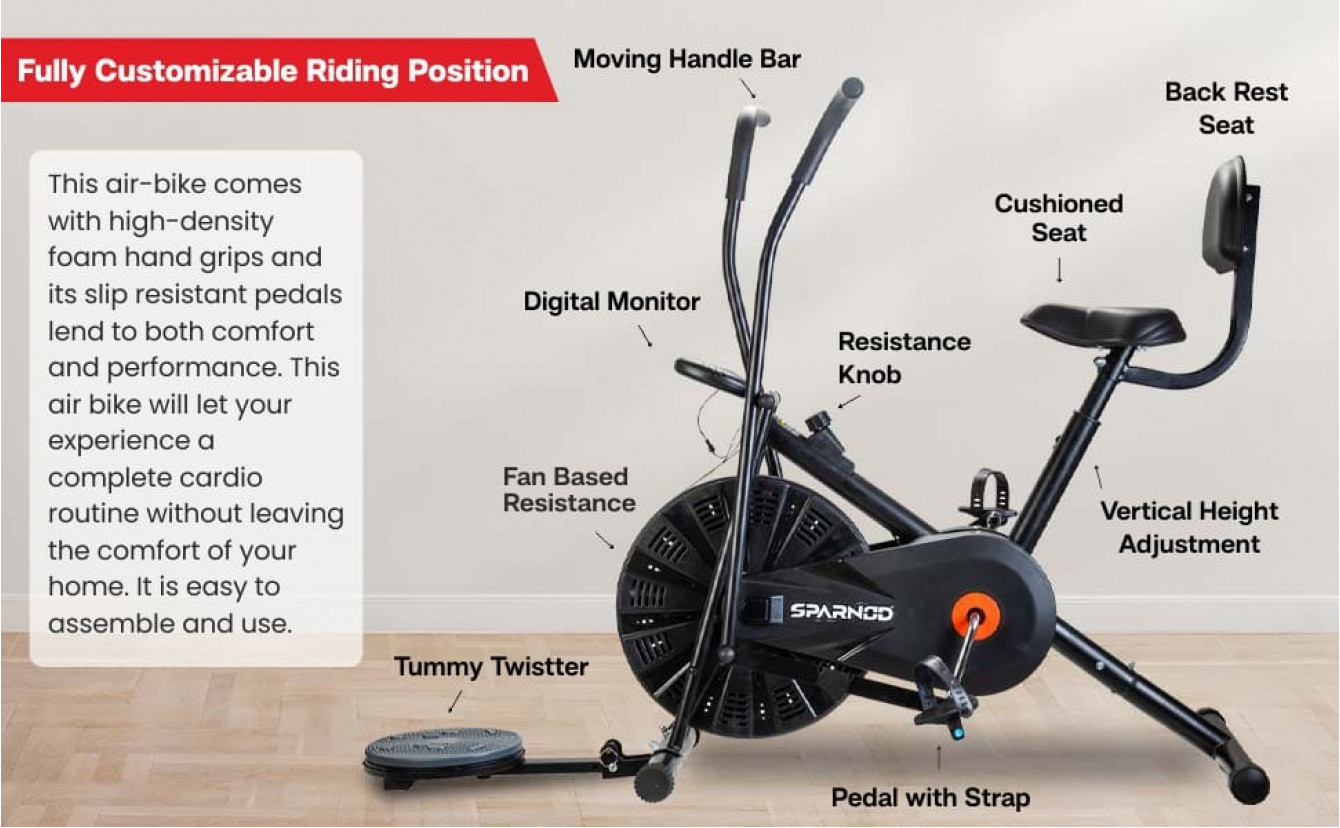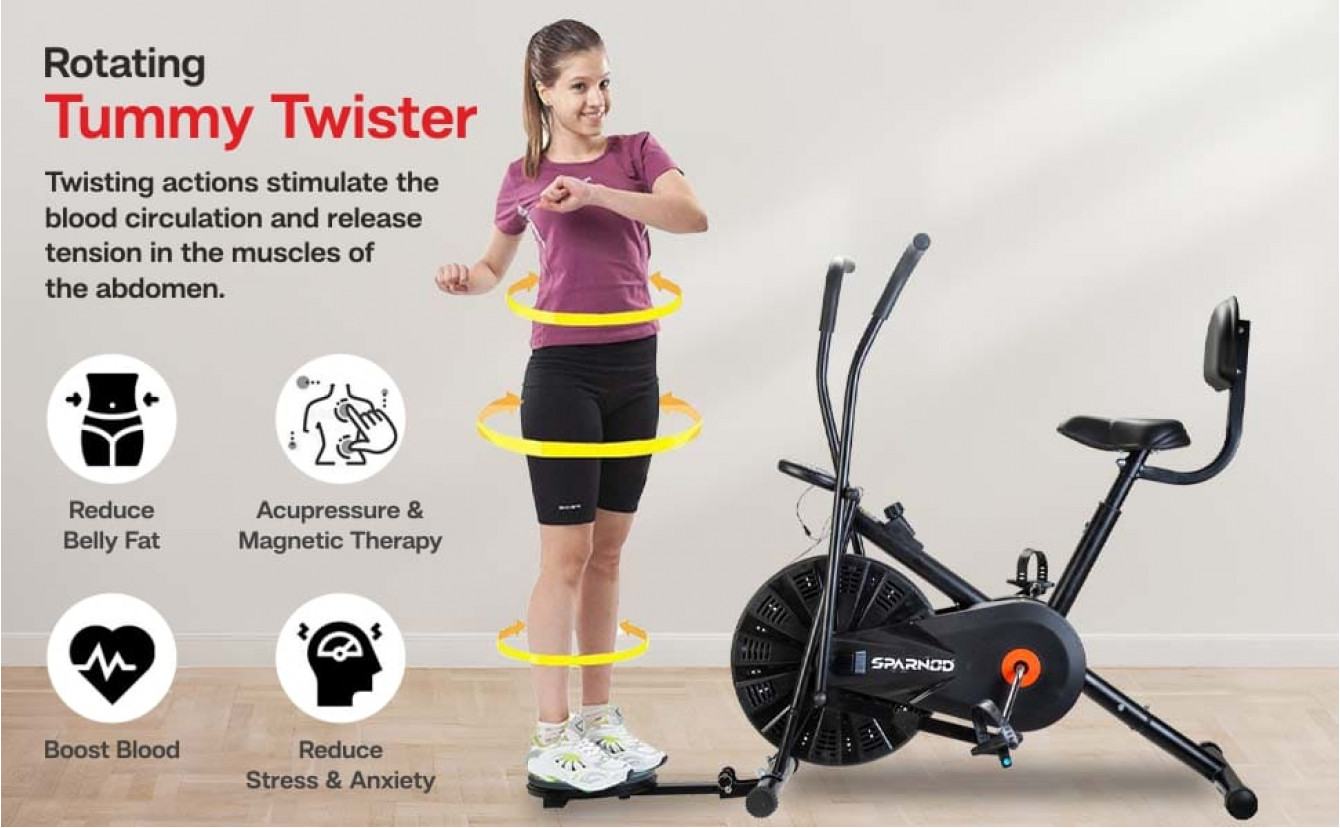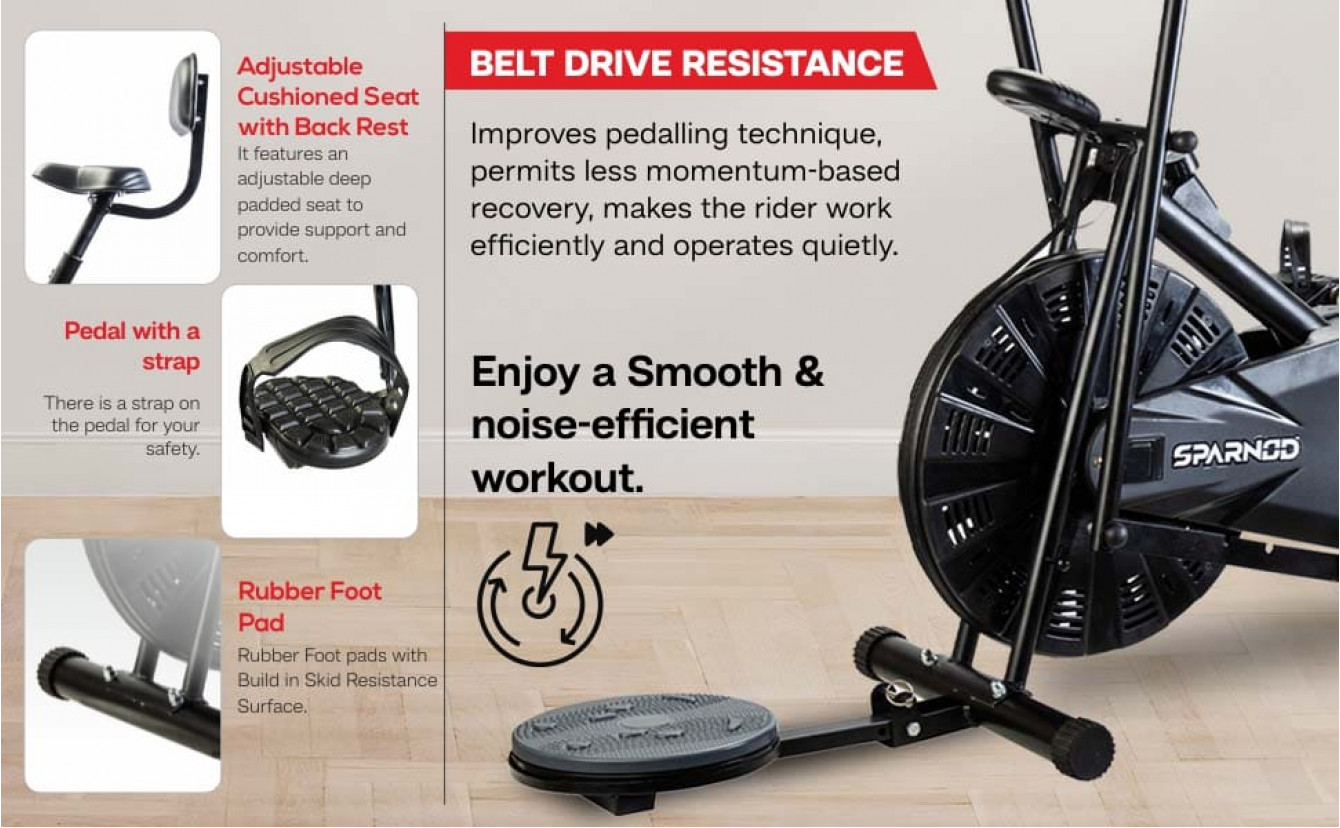 Exercise Bike
Model
SAB-05_M
Assemble Size
61 inch x 18 inch x 41 inch
User Weight
100 KG
Max User Height
6 ft
Resistance
Air
Transmission
Belt Driven
Display
LCD display
Console Function
Time, Speed, Distance, Calories, Scan
Seat Adjustment
Up-Down
Handlebars Adjustment
Moving (can be fixed as well)
Back Seat/Support
Yes
Multifunction
Yes, it features a rotating tummy Twister
Pedal
Cage-Shaped Pedals
Color
Black
N.W.:
20 KG
G.W.:
23 KG
Warranty
1-year
Aesthetically designed and practically built to offer a wholesome workout experience, Sparnod Fitness SAB-05_M upright air bike exercise cycle is a perfect aerobic machine for home. It uses a fan (hence also called fan bike) to generate wind resistance. The faster you pedal it gets harder to pedal due to increased wind resistance. In addition, it has tension controller knob to adjust resistance level, a twister and moving handles. The cushioned seat has adjustable height enabling comfortable posture while working out.
Do It Your Self Installation. | For video call assistance please feel free to reach out to our customer care team.
WARRANTY - 1-year brand warranty against part failures and manufacturing defects. Warranty covers part failures and manufacturing defects only. Regular maintenance/servicing and normal wear and tear are not covered under warranty.
Maximum User Weight - 100 kg. | Assembly Size - 61 inch x 18 inch x 41 inch
Low-Impact Cardiovascular Workout - The Stationary Airbike Cycle offers an excellent aerobic workout. Provides a lower body, low-impact, cardiovascular workout of hips, Legs, calves and buttocks. It gets your heart rate up almost as much as running and burns 4 times more calories than walking, helps lose weight and get in shape while putting minimal stress on your joints. | Health Benefits - Improve memory and brain functioning, lower blood pressure, better sleep, improved blood sugar levels, a stronger immune system, better mood, lower stress levels and more energy throughout the day.
Variable Workout Intensity - Tension controller knob allows adjustment of resistance level thus offering different levels of workout intensity. | LCD Display - Digital meter tracks time, speed, distance and calories. Scan mode continuously toggles time, speed, distance and calories reading for easy monitoring of all metrics while working out.
Ergonomic Seating with Back Support - Ergonomically designed for comfortable seating with high elasticity sponge as you work out which will also prevent you from experiencing stiffness of the back, strains, and muscle aches even when sitting for a long time. | Adjustable Seat - The seat can be adjusted to accommodate users of different body sizes. | Foot Pedals with Straps - The foot pedals have straps to avoid slipping of foot. | Anti-Slip Base - Anti-slip wide base for better stability and control.
Compact Space Saving Design - This exercise cycle occupies minimum space and weighs only 20 kg. It is ideal cardio exercise equipment for home gym. | Full Body Workout - Dual action handle bars move back and forth to target upper body muscles (similar to elliptical cross trainer). Pedaling targets lower body muscles. | The handles can also be set to stationary mode.
Multifunction - Unlike the normal Upright Air bike exercise cycle, SAB-05_M features a rotating tummy Twister (for boosting ab strength, muscle tone, and balance).